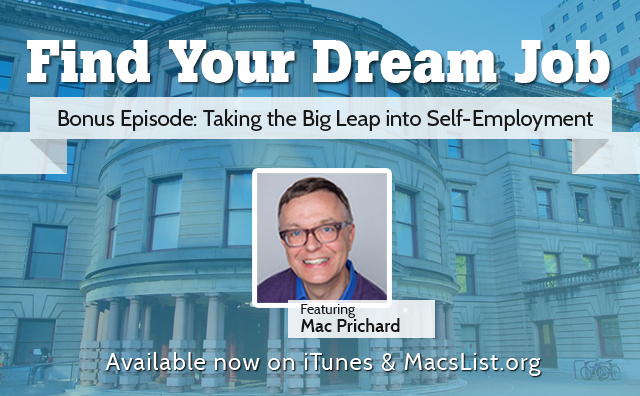 Do you have what it takes to turn your entrepreneurial spirit into a small business? If you can answer yes to just one of three questions you are probably ready to go out on your own. It doesn't matter if you come from a family of entrepreneurs or if you have been a full-time employee for your entire career. If you know how to run successful projects and want to make every day meaningful and leave the office with a deep level of satisfaction. You may be ready to branch out and start your own business.  Here's Mac Prichard, reading his contribution to Land Your Dream Job Anywhere, "Taking the Big Leap into Self-Employment."
Mac Prichard of Prichard Communications and Mac's List shares his personal story and the resources he used to develop and grow two successful businesses. He had never thought of himself as a small business owner before launching Prichard communications but he was confident about his skill set and the work sounded exciting. Learn how Mac landed his dream job and more with the latest book from Mac's List, Land Your Dream Job Anywhere, available February 1, 2017.  Sign up for our email list to be the first to know about the book release and get a copy of the first chapter right away.
Find Your Dream Job is sponsored by Land Your Dream Job Anywhere. The book is launching February 1, 2017, sign up and get the first chapter now!
If you like this show, please help us by rating and reviewing our podcast on iTunes. We appreciate your support!
Opening and closing music for Find Your Dream Job provided by Freddy Trujillo, www.freddytrujillo.com.
Full Transcript

Ben Forstag:

This is "Find Your Dream Job", the podcast that helps you get hired, have the career you want, and make a difference in life. I'm Ben Forstag, managing director of Mac's List. On today's bonus episode, we're sharing exclusive content from Land Your Dream Job Anywhere, our new book that launches February 1, 2017.

For 15 years at Mac's List, we've helped people find meaningful, well-paying work in Portland, Oregon, one of the country's most competitive job markets. Now, we've put all of our best job-hunting advice in one book that can help you – no matter where you live. Land Your Dream Job Anywhere includes advice from many of the national career experts who have appeared on our podcast. Today, we're sharing one of these features exclusively with you, our podcast listeners. Here's Mac Prichard, founder of Mac's List, reading his contribution: "Taking the Big Leap Into Self-Employment." Take it away, Mac!

Mac Prichard:

Taking the Big Leap Into Self-Employment. Some people grew up in families of business owners and can't imagine working for anybody else. Others start a lemonade stand, paper route, or lawn service and launch a full-time business after finishing school. Many employees develop entrepreneurial skills inside organizations and then strike out on their own. Until 10 years ago, I was in the last group. I've always had a job outside the home since childhood – I'm now 58 – but I didn't open the door of my first business, Prichard Communications, until 2007. It wasn't until three years later that I hired my first employee at my second business, Mac's List.

Before I became an employer, I spent almost 30 years working for public agencies, nonprofits, and elected officials; I enjoyed those jobs very much. But one day I received a call from a favorite boss. Her national foundation funded my communications job at a juvenile justice reform project where I worked. She knew my job would end soon. "Would I like to start my own public relations firm and have her as my first client?" That was her question. The truth is, I'd never thought of myself as a small business owner, but the projects my client and I discussed were exciting and the social change work: I'd love to do. And I knew I had the necessary skills. I was a veteran of more than a dozen political campaigns, and I'd gotten good at building enterprises from scratch. And I enjoyed managing them, too.

Striking out on your own is scary whether you're just working for yourself or hiring employees. How do you know if you're up to the challenge? I think you're ready to start your own business if you can say "Yes" to one or more of the following: First, have you had lots of experience setting up and running projects, events, or side hustles? Two, do you know what you want to do and who you want to serve? Three, do you understand your customer's problems and how you can solve them? In my case, I could answer "Yes" to all three questions. My time in government and local politics had taught me how to build and run successful programs that got results. I also knew I was passionate about helping social change organizations communicate their missions and accomplishments. Finally, I understood the needs of the customers I wanted to serve and how to help them. 

My public relations agency, Prichard Communications, celebrates its 10th anniversary in 2017. I'm fortunate to have a great team and great clients. We work exclusively with nonprofits, foundations, in purpose-driven brands that make the world a better place. It's a privilege to serve such inspiring organizations. Every day at the office brings meaning and deep personal satisfaction.

If you're interested in starting your own business, you need to read Chris Guillebeau's book The $100 Startup and Eric Ries' book The Lean Startup. Both books were instrumental in helping me grow Prichard. You should also talk to people who've done it. Take business owners to lunch. Join professional groups or go to networking events for entrepreneurs, freelancers, or other self-employed people. You'll be surprised how generous others are with their ideas and time.

Ben Forstag:

Thanks Mac. Both for the insights here, and for building the business which I've been lucky enough to join. I certainly appreciate it. If you enjoy this podcast, I encourage you to check out Land Your Dream Job Anywhere. Just like this podcast, our new book offers practical, actionable, and proven tools you can use right away. In Land Your Dream Job Anywhere, you'll learn how to get clear about your career goals, find hidden jobs that never get posted, ace your next job interview, negotiate the salary and benefits you've earned, and take charge of your career now and into the future.

Land Your Dream Job Anywhere arrives on February 1, 2017, but you don't need to wait. Join our pre-launch mailing list and we'll send you our very first chapter for free, along with other valuable job search resources. Visit macslist.org/anywhere. Thanks for listening.
You May Also Like