Mac's List Joins Oregon B Corps. Great Jobs Can Change The World
2/03/17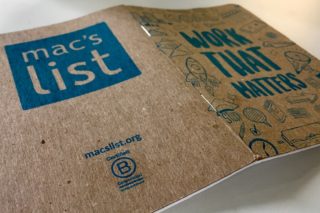 At Mac's List, we believe that fostering great careers builds better communities, and that's more important than making a buck. So in February 2017, Mac's List became a Certified B Corp, joining a global movement of people using business as a force for good. We join a thriving community of Oregon B Corps , and we're thrilled to receive this official recognition for our commitment to serving our community.
B Corps, or B Corporations, are certified by the nonprofit B Lab to meet rigorous standards of social and environmental performance, accountability and transparency.
Why We Became a B Corp
Becoming a B Corp was a choice we made because we want to walk our talk. By meeting and maintaining high standards, we signal to our community that we truly care about their careers. For us, B Corp status reinforces our core beliefs, including:
Meaningful, rewarding work empowers people as individuals and, in turn, strengthens our community.
Nonprofits, foundations, and other social change-making institutions are able to build capacity and increase impact when they can hire the best possible talent.
As a member of the community, it's important for our organization to adhere to responsible business practices that minimize waste and environmental impact, and to work primarily with local suppliers.
Investing in our local communities will make our hometown of Portland, Ore. a more prosperous, sustainable place to live and work. We believe this concept works at scale, and that for-profit businesses can serve the world when they express and make decisions based on a social mission!
When we received our B Corp certification, there were only about 60 certified B Corporations in Oregon — and only 2,000 in the entire world — but that number is growing! We're so honored that Mac's List is a part of  this powerful movement of socially-conscious enterprises.
This is a big accomplishment for the Mac's List team and is the culmination of a year of work led by our finance manager, Anneka Winters. But we couldn't have done this without the support of the broader Mac's List community: our readers, customers, and partners who drive everything we do. Thank you for your support and for allowing us to be a part of your success.