Mac's List Featured in the Portland Business Journal
9/29/16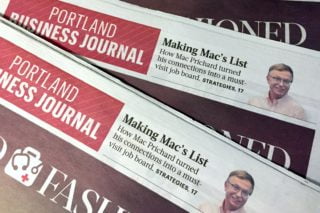 Ever wonder how Mac's List came to be, and where we're headed as an organization? Mac's List was profiled as a rapidly growing enterprise in the Portland Business Journal, the Rose City's premier business publication. Mac Prichard, our founder and publisher, discussed the origin and growth of Mac's List, as well as the many products and services we provide to Oregon job seekers.
Below is the full text of the article, which was originally published in the September 16, 2016 edition of the Portland Business Journal:
Portland job board expands its business through booms and busts
The phrase "it's who you know" is arguably the most overused aphorism associated with job hunting—likely because it's the indisputable truth.
"Most employers tend to hire either someone they know or someone who comes recommended by people they trust," said Mac Prichard, author of "Land Your Dream Job in Portland (and Beyond)," a tome published earlier this year that helps job seekers better prepare themselves for gaining employment in the City of Roses.
Simply put, when it comes to landing the right job, it helps to know the right people. And when it comes to having access to the right people in Portland, Prichard wrote the book on the subject. Literally.
A lifelong Portlander*, Prichard, 57, is uniquely positioned to offer job-hunting advice. Not only is he the founder of Prichard Communications—and extremely well connected as a result—he is also the man behind Mac's List, the job board that has united countless job seekers with potential employers.
Mac's List started as a way for Prichard to keep connected with friends and colleagues, a "passion project" with a few dozen subscribers. Today, it is a mid-six-figure business with a busy website, four employees, and some 28,000 subscribers anxious for a foot in the door with Mac's List clients like the Oregon Humane Society, OHSU Foundation, and Portland Center Stage. And the business has continued to evolve, offering a range of additional services, including online courses.
That Mac's List is thriving in Portland's red-hot job market at a time when in-migration to the city is growing isn't a surprise. That the company has been growing for a decade-plus, including through the Great Recession, says a lot about Prichard's vision.
"We've grown almost entirely by word of mouth," Prichard said. "People find us."
Standing on its own
Prichard founded his namesake public relations firm in 2007. Prichard Communications, which became a Certified B Corporation in 2015, has a client list heavy on nonprofits and foundations.
The community-minded focus makes sense given Prichard's career. His own resume is loaded with an assortment of regional job titles in nonprofits and government, including time spent in Salem working as a spokesman in the Human Services Department and the Oregon Employment Department.
To keep in touch with friends and colleagues back in the state capital, Prichard used his Outlook address book to start a modest email list 15 years ago to share news about promising job notices that came his way.
With Prichard's varied background and connections all over the state, "Mac's List" offered sought-after links to jobs with colleges, state and city governments, arts groups, nonprofits, and other rarefied institutions.
From those humble beginnings, a new company was born.
Mac's List spun off from Prichard Communications into a separate company in 2010, covering its production costs by selling adds to employers, who were only too happy to continue the service
"In order to support growth, we need an intelligent staffing strategy," said Shereen Rodrigues, an acquisition specialist at marketing and events firm Opus Agency. "Mac's List has provided us with an affordable job posting service that has attracted highly qualified local and national candidates. With over half of our candidate pool coming from job posts on Mac's List, it has proven to be an invaluable recruitment tool that we will continue to utilize for the foreseeable future."
In addition to producing deep pools of strong job candidates, Rodrigues said Mac's List also creates custom reports that Opus uses to compile recruitment metrics.
"When they post on Mac's List, they save time and money. They get fewer applications, but they are the right applications—local, highly qualified, and well educated," Prichard said. "With a national board, [potential employers] might get applicants from all 50 states. That's dozens or even hundreds of resumes to sort through to find the five or six people they want to talk to.
Mac's List 2.0
While connecting job seekers and employers remains the core business, Prichard has further monetized the list by offering online courses, hosting quarterly networking events, like the recent "How to Land a Tech Job in Oregon," and by selling subscriptions to podcasts** peopled with industry notables offering advice on how to find and win what he calls, "hidden jobs," that are filled by word of mouth.
"We've seen estimates that as many as 80 percent of jobs are not advertised. They don't appear on job boards or in classified ads," Prichard said. "There's no conspiracy, it's just human nature that we hire people we know or who are recommended to us."
Earlier this year, true to form, when Prichard needed to hire a managing director to handle some of the workload, he followed conventional wisdom and went with a Mac's List subscriber.
"I first learned about Mac's List when I was living in Washington, DC and preparing for a move to Oregon," recalls recent hire Ben Forstag. "A friend suggested I check out the site and it was exactly what I was looking for—quality, meaningful jobs. As it turned out, I found my first job in Portland through a Mac's List ad."
* Correction: Mac was actually born and raised in Davenport, Iowa. He moved to Portland in the early 1990s.
** Correction: Mac's List doesn't sell subscriptions to our podcast. Find Your Dream Job is (and always will be) completely free!