Recruitment Trends for 2021: What to Expect in the New Year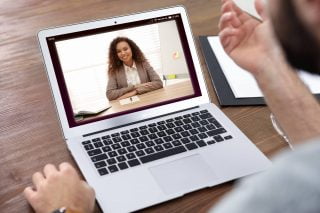 A 2020 marked by COVID-19, economic strife, and racial justice protests has challenged and transformed workplaces everywhere. After a tumultuous year, employers are looking ahead to what they can expect for recruitment trends in 2021. Despite the pandemic's continued uncertainty, it's becoming increasingly clear how workplace changes will carry forward into the future.
From the flexibility of remote work to the importance of equity initiatives, the past year has profoundly impacted our relationship with work. Ready to dig in and learn about workplace predictions for the year ahead? Here are five recruitment trends to expect in 2021, drawing from the Jobvite Recruiter Nation Report. 
Workplaces will shift to a hybrid office environment. 
In the Jobvite Recruiter Nation Report, one-third of surveyed recruiters reported that 50 percent or more of open roles at their organizations are being hired as remote workers. Once COVID-19 is under control and it's safe to resume working in shared spaces, we'll see a combination of remote and office work. 
This hybrid model will provide more flexibility around when we work as well as where, pairing structure and sociability with independence and flexibility. Stanford economics professor and remote work expert Nicholas Bloom offers three pieces of advice for work from home policies: 
Plan to work from home 1-3 days a week,

allowing employees to use their at-home days for quiet, thoughtful work, and let them use their in-office days for meetings and collaborations.

 

Recognize the inequities that a work from home economy can exacerbate. Workers face different challenges and obstacles to working from home. For example, some workers may have childcare duties or lack a designated workspace. Advocate that local government policymakers ensure broadband service is expanded. This way, more workers can do their jobs away from a traditional office.

Make work from home optional. Empower employees to choose the right mix of work from home and office days for them. It will also help to tie working from home to thoughtful performance management metrics.
While post-COVID work will combine working from home and office work, virtual interviews are here to stay. Half of Jobvite's surveyed recruiters conduct 50 percent or more of their interviews via video. Forty percent of recruiters believe virtual interviews will be the default moving forward. 
Employer brands will become crucial to attracting top talent. 
According to the  Recruiter Nation Report, a strong employer brand remains crucial to attracting candidates. The channels recruiters report finding most effective in growing employer brand are social networks, a company's career website, and in-person or virtual recruiting events. Post-pandemic, an organization's mission, commitment to equity and inclusion, and worker satisfaction will be more important than ever to attract and retain talent. 
A 2019 Glassdoor survey of over 5,000 adults in the U.S. and Europe detailed in Forbes revealed that 56 percent of respondents prioritize workplace culture over salary. Furthermore, 73 percent of workers said they would not apply to a company that didn't share their values. This percentage is likely to rise after the COVID-19 pandemic.
"Job seekers are going to remember which employers rose to the occasion and how companies managed and led through this crisis," Jillian Einck, director of employer brand at New York City-based recruitment marketing agency Recruitics, said in an SHRM interview. "Doing things that are not seen as people-centric during this time will have a detrimental impact to both consumer and employer brand."
Recruiters will continue to leverage AI and automation. 
According to the Recruiter Nation Report, recruiters will delve deeper into using AI and automation. This will help build efficiency as they communicate with candidates, schedule interviews, input applications, and organize candidate databases. Recruitment chat boxes, in particular, are gaining in popularity as a way to engage and inform candidates. 
In a SHRM article, Athena Karp, founder and CEO of New York City-based AI HR tech company HiredScore, said AI shouldn't replace recruiters or HR managers, but rather augment their capabilities. That way, they can hire the best people and spend more time on candidate care and other strategic aspects of their jobs that require human attention.
A critical consideration of using AI as a hiring and recruitment tool is avoiding unconscious bias. Karp said employers need to be sure their algorithms are transparent and their decision parameters explainable — and tested. That way, their screening technology itself doesn't inadvertently introduce or perpetuate a bias.
Mental health benefits and workplace flexibility will become sought after. 
In the Recruiter Nation Report, close to half of the surveyed recruiters reported that job seekers are inquiring about mental health benefits more frequently since the onset of the COVID-19 pandemic. Additionally, interest in accommodations and flexibility for working parents is even higher, with two-thirds of recruiters reporting more frequent inquiries.
More and more candidates are inquiring about these offerings and prioritizing them in their job searches. "As companies continue to power through the pandemic, they cannot ignore their role in supporting employees who are struggling," Hibob CEO Ronni Zehavi said in an interview with SHRM. 
Employee happiness is good for business. Take a look at the benefits you offer and how you can expand them. You can start by looking into your group health plan. Then, explore options such as an Employee Assistance Program (EAP). These programs offer counseling options with licensed professional counselors and referrals for long-term counseling or specialized care.
Even if your company isn't able to expand its benefits at this time, you can get creative. Put together a collection of mental health resources. Consider offering virtual events that support mental health and well-being. 
Social media, employee referral programs, and job boards will be key recruitment tools. 
According to the Recruiter Nation Report, recruiters will continue to invest in social media as a recruitment tool, particularly LinkedIn. Employee referrals and job boards will also continue to be top recruitment focuses. Among surveyed recruiters, 74 percent anticipate text recruiting capabilities to increase. 
Analytics are helping recruiters shape and refine their recruitment strategies as they focus their efforts virtually. Internal hires remain the top-rated source for hiring, followed by employee referrals and job boards.
Another essential consideration in recruitment strategies is mobile engagement. AppCast notes, "Evaluate if your application process is quick and mobile-friendly because if not, there is a smaller chance (candidates) will revisit once they are near a desktop."
As we head into a new year, the time you spend adapting your recruitment practices and prioritizing candidate experience will make a big difference. Take these tips and build upon them as you create strategies for 2021 and beyond!