The State of the Portland Job Seeker 2019: Local Candidates are Available, and Skeptical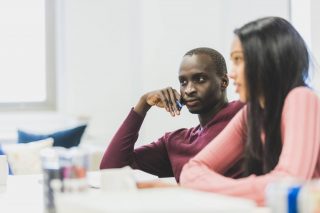 In 2019, most people talk about the job market in terms of hiring. Employers are dealing with worker shortages, struggling with shrinking applicant pools, even getting ghosted by their employees. Unemployment hovers around all-time lows here in the greater Portland region. So most people just assume that workers are celebrating with multiple job offers, healthy wages, and choices galore.
But according to a recent survey of Mac's List users, local job seekers are dissatisfied by their options in today's workforce. There are inarguably jobs available, and nearly all of the 749 survey respondents said they were actively looking or open to new work. But many workers told us that they weren't applying much because they're fed up with searching. The top frustrations cited included low wages and frustrating hiring processes.
The Disconnect in Portland's Job Market
To me, there seems to be a disconnect in our Portland-area job market. Local employers tell us every day that they can't find candidates. Yet here are more than 700 local candidates who say they're available for work. If you're hiring in the current job market, it's time to start listening to these job seekers. It's time to respond with action to improve the way you hire new staff, and retain your current employees. It's time for a human-centered hiring process.
The Mac's List has released key findings from our survey and produced a detailed report called the State of the Portland Job Seeker 2019. Inside, there are six key insights culled from the survey respondents, all local job seekers in the Portland metro area. We've presented these insights alongside quotes from real job seekers, so you can understand and empathize with the people you're trying to recruit. And we've also included tips for employers to respond to each insight, helping you adjust your hiring tactics to attract local candidates. You can download the full report here! In the meantime, let's dig into a couple of the findings.
Portland Candidates Are Savvy: Salary Expectations & The Importance of Employer Reputation
Portland job seekers know they have options. So they're raising their standards around work. For employers, there are a couple of key things you need to think about. Let's start with salary.
Salary expectations nearly match market averages
When asked about their salary expectations, many respondents framed the issue in terms of attaining a "living wage." While this term is highly subjective, we all know that the cost of living has increased in Portland, and wages have largely stagnated.
Do local workers have a realistic view of what a living wage really is? We decided to look at how our survey respondents' pay expectations compared to local averages, and to our surprise the two numbers were just 24 cents apart!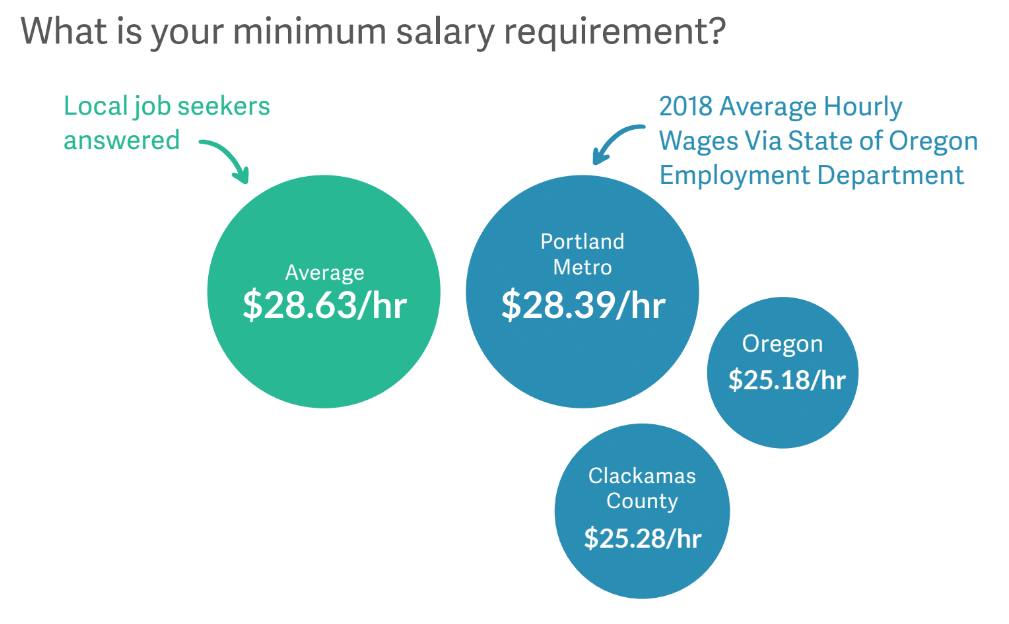 What does this mean for employers?
Local workers know what they can earn in the Portland metro area. As an employer, offering competitive pay is becoming more and more important in the success of your recruiting.
But if you can't afford to pay market wages, don't despair! Survey respondents have other priorities too, including skill alignment, team dynamics, and benefits. See how they ranked pay in their decision to apply for and accept new work in the full report here.
Employer brand really does matter
A couple of the questions we asked revealed how much local job seekers pay attention to your organization's reputation as an employer. When we asked what factors were most important in a candidate's decision to apply for a job, the organization's reputation ranked high, trailing essentials like skill alignment, compensation, and physical location.
And when we asked what resources job seekers use to find jobs, it was clear that local candidates are doing their research. Not only do they use job boards and employers' websites, they check review sites like Glassdoor as well as social media to find out what it's like to work for your company.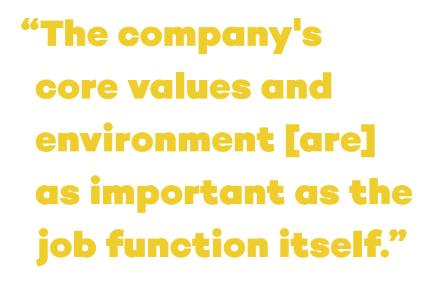 What does this mean for employers?
These findings point to the thesis of my post today: if you're hiring, you've got to pay closer attention to what candidates want and need. Job seekers care about the type of workplace they choose, and they will find out whether or not your company is a good place to work. Find out what your current reputation is, work to improve it, and watch the positive reviews and applicants roll in. If you want to find hiring success in the long term, it's time to be holistic.
Use local candidate data to improve your Portland recruiting strategy
The Mac's List team is proud to share the State of the Portland Job Seeker 2019 because we see the job market from both sides of the coin. We listen to both job seekers and employers in our community, and we see opportunities for greater connection and better outcomes. For employers, that means you've got to rethink some of your policies and practices to better attract local talent. But in the long run, it also means more successful hires, better retention, and more productivity.
And there's more help in the full 10-page report. We've just grazed the surface on this data here! Click here to download the State of the Portland Job Seeker 2019.