The Great Resignation Has Arrived: Here's How to Navigate it as an Employer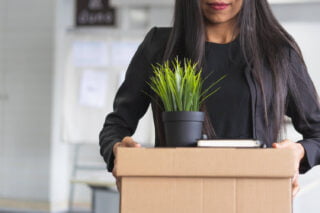 As we continue to ride the waves of the pandemic, 41% of workers globally are thinking about quitting their jobs. A poll from Monster reports that 95% of employees are at least contemplating a job change. "The Great Resignation" – a phrase coined by Anthony Klotz, an associate professor of management at Texas A&M – predicts that workers who stayed put during the uncertainty of COVID-19 are now considering jumping ship. 
Already, employers are witnessing a mass departure across industries and experience levels, especially in service and retail. A record 4 million people quit their jobs in April 2021, followed by 3.6 million in May, according to the Labor Department. At the same time in April, employers posted a record 9.3 million job openings in the United States. 
What Sparked The Great Resignation?
"The Great Resignation is propelled by three forces: the changing generation, the economic crisis, and the realization people have had that they can have a different social contract, spending more time with family when they work remote and skip the commute," Shahar Erez, CEO of the freelance talent platform Stoke, told Fast Company.
A Rebounding Economy and Shifting Priorities
Many employees planning to quit before COVID-19 pressed pause on their resignations amid job market uncertainty. During the past year and a half, they had a chance to evaluate what matters to them and shift their work priorities.  It's not surprising that as the job market recovers and employees regain confidence, they're ready to take the leap. 
Burnout and a Desire for Better Work-Life Balance
While the pandemic ushered in newfound flexibility through remote work, a report from the National Bureau of Economic Research (NBER) showed that the average workday lengthened by 48 minutes. Employees are burnt out from the past 17 months of changing job responsibilities and collective trauma. They're quitting to take care of themselves and to find a better work-life balance. 
A Return to the Office and Lack of Flexibility
As COVID-19 vaccination rates increase and restrictions loosen, some employers are calling employees back to the office. But employees have grown accustomed to remote work flexibility. Employees are ready for a reset on what work looks like – not a return to 2019 normal. As a result, employees are open to new opportunities that afford them the ability to work remotely. 
How to Weather The Great Resignation
"The truth is that no organization will emerge from The Great Resignation entirely unscathed," Matthew Kosinski writes for Recruiter.com. "The factors driving this sea change aren't all within your company's control, but there are certain steps you can take to minimize the damage and set yourself up to outperform your competitors in this difficult job market."
Proactively Retain Current Employees
Invest in your employees and show tangible concern for their well-being. Connect employees to your mission, vision, and values. Continue flexible remote work arrangements. Encourage employees to take vacations and mental health days. Offer programs and perks to reduce burnout. Check-in with working parents and caregivers on the support they need to stay with your organization.
Hire Independent Contractors to Lighten Workloads
More and more employees are exploring the flexibility of freelance careers. Creating a blended workforce of full-time employees and independent contractors is a great way to support your existing employees and potentially retain talent as independent contractors. Hiring independent contractors can help generate more flexibility and reduce employee burnout or stress.
Get Innovative Serving Your Employees
Employers often focus on innovating to meet customer needs, Naz Beheshti writes for Forbes. What would that look like if they served their employees in the same way? Sisense, a New York company, started offering employees "Coming Up for Air Days" days each quarter. Meanwhile, Cisco, a Silicon Valley-based company, developed a digital care platform called Wellthy that helps employees manage the logistics of their caregiving responsibilities.  
"The Great Resignation signifies that employees have emerged from the pandemic with new insight into what truly matters," Beheshti writes. "Employers must do the same and move forward with a strategy that sees employee well-being and the quality of work as inextricably linked. We now know that companies who make employee well-being a priority are going to be the ones with a competitive edge and best able to attract and retain top talent."