Hiring in a COVID-19 World: How Recruitment is Forever Changed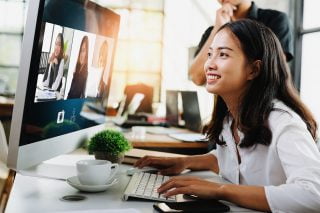 COVID-19 has permanently changed the way employers recruit and hire. Even recruitment strategies that worked well in 2019 have already become obsolete. As an employer, it's more important than ever that you understand the challenges and opportunities posed by COVID-19 hiring and pivot your recruitment strategy, interview process, and employee onboarding to meet these unprecedented times.
What are the best ways to adapt your hiring practices moving forward? This guide will help you navigate key considerations as you work to hire and train new employees in a COVID-19 world. By working through each of these sections, you can put your best foot forward as an employer to improve your hiring practices and set your team up for success. 
Make Equitable Hiring A Top Priority
Diversity, Equity, and Inclusion were crucial workplace topics long before the pandemic. COVID-19 and racial justice uprisings have sparked a renewed awareness and an ongoing discussion about equitable hiring practices. First and foremost, remember to practice empathy, flexibility, and transparency throughout your recruiting, hiring, and onboarding processes. This is a difficult and stressful time period for so many people.
As an employer, how you support and show up for marginalized communities matters tremendously. Human relations expert Katie Augsburger of Future Work Design talks about the significance of putting employees first with your policies and procedures. By creating a workplace that is accessible and inclusive for employees who have traditionally been excluded, the workplace becomes better for everyone. 
Whether or not your office is working remotely, be attuned to employees' concerns about COVID-19 and support them by offering a variety of accommodations. Perhaps this means setting them up with a home office conducive to remote work, letting a parent shift their hours to account for childcare, or providing a BIPOC employee a bereavement day following an act of racial violence. Don't be afraid to solicit feedback and adapt your company policies and hiring practices on an ongoing basis to meet your team's needs and strive to retain talent.
Instate New Interview Practices
To preserve time and energy for you and job candidates, be transparent  about how your company has adapted your COVID-19 hiring. Detail expectations about in-person versus remote work, discuss how you communicate as a team, and demonstrate how you've built a sense of camaraderie during a pandemic. The more information you can convey early on, the clearer candidates will be about whether the job and company is the right match for both of you.
This is also an ideal time to rethink how you conduct interviews and find opportunities to make your processes more accessible. Reflect on how it feels to be in a job candidate's shoes searching amid a pandemic and determine how you can help meet them where they are. Perhaps you can share interview questions in advance or develop rapport by opening up about some of the challenges your company has overcome during COVID-19.
Behavioral interview questions will help you not only determine candidates' ability to work remotely but how they adapt and refuel themselves during a difficult time. Ask questions such as how candidates strike a work-life balance while working from home, how they overcome a slump in productivity, or how they collaborate with others to access resources and address issues.
If you choose to do a skills test or assignment, consider compensating the candidate for their efforts. It's important to be mindful of the economic hardships many candidates may be experiencing and respect their time.
Enhance the Candidate Experience
During a tumultuous time, communication is key. You can improve candidates' experience of your company by partnering with your marketing and communications team to develop thoughtful hiring communications. Incorporating crisis communications into your messaging will help you to acknowledge the impact of COVID-19 on job seekers and your company.
Ensure that your team is communicating with candidates every step of the way and following up even when a candidate doesn't get the job offer. You can also establish clear expectations when candidates will hear from you. If there's a candidate you think highly of but can't offer a job to, consider sharing freelance opportunities or referring them to another company if you have the capacity.
Another great tool to leverage for a better candidate experience is your careers page. If you spend time upfront developing FAQs and sharing what it's like to be an employee at your company, candidates will get a more robust snapshot of who you are and how you operate during COVID-19. When you can demonstrate employee retention and growth at your company, you'll be able to better engage candidates and show them potential career paths at your company.
Invest in Your Onboarding
With so many workplace shifts due to COVID-19, remember to pace your onboarding process and give new employees an opportunity to absorb new information. It's likely they'll receive onboarding materials virtually or in a different format than usual. During this time period, anything you can offer to enhance employees' remote office setup or ensure that their tech runs smoothly will go far. 
Setting up weekly one-on-ones  with managers and implementing chat channels such as Slack, Google Chat, or Skype are great ways to further develop relationships with new employees and ensure they have the information they need. Don't forget picking up the phone is always an option to connect! Some businesses are even giving VR tours of their physical offices to help new employees feel connected while working remotely.
Another way you can build connections within your team is to offer virtual happy hours, professional development opportunities, or themed social events on Zoom or Google Hangouts. These optional events are a great way to cultivate team spirit, grow your team's professional skill sets, and contribute to employee retention over the long run. Small gestures to build a cohesive community go a long way during difficult times.
With these tips, you can continue to improve your hiring practices and make well informed hiring decisions for your company in the COVID-19 era. Instead of viewing the pandemic as an insurmountable challenge, focus on how pivoting your practices can lead to better outcomes for your company, your team, and your potential employees.