2023 Oregon and Washington Employer Survey Highlights Local Job Market Changes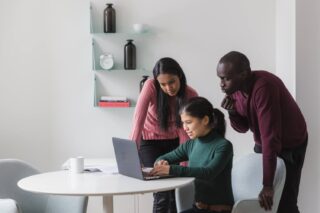 Does the job market feel different to you compared to four years ago? 
You're not alone.
Unemployment rates in Oregon, Washington, and across the United States remain at historic lows. And the current labor shortage shows no sign of slowing soon. 
But it's not only the unemployment rate that has changed since the start of the COVID-19 pandemic in 2020. 
For many professionals, how you work, where you do so, and what you can expect when you look for a job has shifted fundamentally. 
Employers have embraced hybrid and remote work, and job seekers continue to hold an advantage in the current labor market. 
And more change is coming. Transparency in job postings and employee satisfaction will be key factors in shaping the future of work in the Pacific Northwest and elsewhere. 
A new annual survey from Mac's List outlined in the Oregon and Washington Hiring Report 2023 confirms these transformations in both the workplace and the job search. From June 26 to July 26, we surveyed 115 employers in Oregon and Washington across various industries.
Here's what these local employers told us: 
Key Findings from the Mac's List Employer Survey 2023
Hybrid and remote work is the new normal:

50% of surveyed employers plan to hire hybrid or remote workers in the next 12 months. This marks a significant shift from the pre-pandemic era when only

9% of Portlanders

worked remotely in 2019. In 2023,

12.7% of U.S. full-time employees

work from home, with 28.2% adopting a hybrid model. By 2025, an estimated

36.2 million Americans

will work remotely, emphasizing the role of adaptability and technology in reshaping the modern workplace.

Job seekers maintain their advantage:

Employers continue to find it challenging to identify the right candidates, with 56% of respondents citing this as their biggest hiring challenge. The job market remains favorable for job seekers, as 53% of surveyed employers foresee no significant changes in the job market in the coming year.

A strong job market ahead:

80% of employers state that they plan to hire new workers in the next 12 months, aligning with labor market analysis projecting job growth in

Oregon

and

Washington

. These opportunities reflect optimism about economic growth and demand for diverse skills.

Salary transparency is the norm:

In a significant shift, 90% of respondents now include salary information in their job postings. This

trend toward transparency

aligns with national changes and benefits job seekers by reducing wage gaps, clarifying expectations, and streamlining the recruitment process.

The Great Resignation eases:

The trend of employees leaving their jobs in large numbers

has receded

, with 51% of employers reporting that retention rates are about the same and 23% indicating higher retention than usual. This suggests that businesses have adjusted to the evolving labor market with improved retention strategies and better working conditions.
Download the Oregon and Washington Hiring Report 2023
By completing this form, you'll be added to our monthly employer newsletter, with other valuable hiring resources. Don't worry, you can unsubscribe at any time!