Mac's List is the premier resource for connecting passionate professionals to meaningful work throughout Oregon, Washington, and the greater Pacific Northwest. With a growing monthly audience of 45,000 regional professionals, Mac's List is a platform to position your organization and your products before motivated, engaged, qualified candidates. Raise awareness about your hiring organization, introduce professionals to your unique products and services, recruit for your education program, and more!
For advertising inquiries, please contact Ben Forstag, Mac's List Managing Director.
Our Audience
Demographics from our most recent audience survey (January 2018).
Mac's List Audience Demographics
Banner Ads on MacsList.org
Mac's List is much more than a job board—it is a community of educated and career-minded professionals. Our focus on meaningful and well-paid work opportunities and high-quality, regularly updated content makes MacsList.org a premier destination for professionals in the Pacific Northwest.
Advertising on the Mac's List website positions your organization and your product in front of engaged and empowered consumers.
Monthly MacsList.org Readership
Users

40,262

Sessions

107,742

Page Views

1,114,469

Session Duration

3:37
Google Analytics for macslist.org (August 2017)
In-Market Affinity Segments
Employment

5.68%

Career Consulting Services

3.77%

Hotels & Accomodations

3.42%

Post-Secondary Education

3.21%

Real Estate (For Sale)

2.72%
Google Analytics for macslist.org (August 2017)
Ad Placement and Size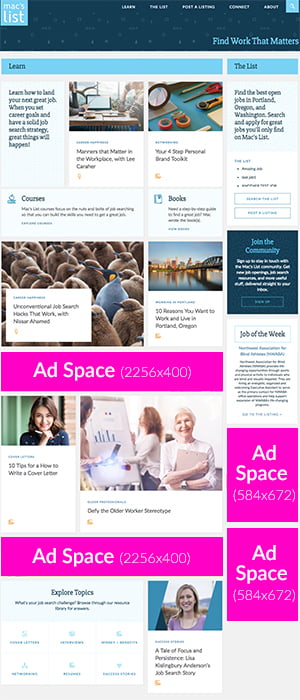 Your paid ad will appear on both the Mac's List homepage and "Learn" section landing page, two of our most heavily trafficked pages. We embed your ad around value-added content, increasing the brand-association between Mac's List and your product.
Mac's List offers two ad placement options:
Banner ads: 2256px x 400px
Block ads: 584px x 762px
Pricing
One Month Run: $800
Two Month Run: $1200 (Save 25%)
All paid advertisements include a free banner ad placement in every Mac's List Tuesday and Thursday newsletter, for the entirety of your run. This is an exclusive opportunity to connect with Mac's List 25K+ email subscribers.
Podcast Sponsorship
Find Your Dream Job, the weekly Mac's List podcast, is for professionals who are looking for new work, meaningful employment, and an opportunity to make a difference in life.
Our show provides proven tips and industry-insider advice on how to get a great job. Each week, we feature an interview with a national job search and career management expert, provide practical tips to improve your marketability, share career development resources, and answer listener questions.
Monthly Podcasts Stats
Total Downloads / Month

21,000

New Episode Downloads (1 mo.)

1500
Libsyn Podcast Analytics (2015-2017)
Podcast Audience
Top Audience Markets
Portland

12.16%

Yakima / Pasco / Richland / Kennewick

9.10%

New York

7.93%

Los Angeles

5.56%

San Francisco

5.21%
Libsyn Podcast Analytics (2015-2017)
Pricing
The standard sponsorship package is for advertising in 4-contiguous podcast episodes.  Your sponsorship includes a 30-second pre-roll advertisement, a 60-second mid-roll advertisement and a banner ad in the show notes.
Contact ben@macslist.org for additional pricing information.