New Mac's List Partnership With Washington Nonprofits Expands Nonprofit Hiring Support
5/21/19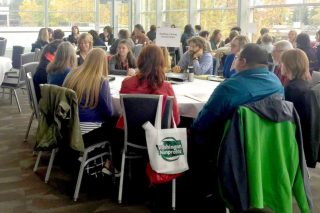 Photo via Washington Nonprofits
Mac's List is pleased to announce a new community partnership with Washington Nonprofits, the primary advocacy and education association for nonprofit organizations in the state of Washington. The collaboration is designed to help local nonprofits build capacity through effective hiring, connecting Washington Nonprofits' mission-driven member organizations with Mac's List's growing regional talent pool.
As part of this partnership, Washington Nonprofits members receive a discount when posting their jobs on Mac's List.
"We're excited to join forces with Washington Nonprofits, an organization that has been serving the diverse needs of the statewide nonprofit community for nearly a decade," said Mac Prichard, founder and publisher of Mac's List. "Our partnership focuses on a growing challenge for many nonprofits in the region: recruiting great new employees in a tight labor market."
For nearly 20 years, Mac's List has helped nonprofits in Oregon and Southwest Washington connect with skilled and passionate job seekers. With an emphasis on meaningful career opportunities, deep connections within the community, and a mission to break down barriers between employers and job seekers, Mac's List has become the go-to-resource for nonprofit professionals looking for work in Portland.
"We're following the same blueprint as we expand our services into the Seattle market," notes Prichard. "Through our community partners like Washington Nonprofits, we'll offer unique content, connections to superb candidates, and exceptional value for the region's growing nonprofit sector."
Under the terms of the partnership, members of the Washington Nonprofits receive a $15 discount on all Mac's List job posts, as well as 10 percent off all bulk-posting and employer branding packages.  Combined with Mac's List's standard discounts for nonprofit organizations, this membership benefit represents an unprecedented value for organizations seeking passionate, qualified employees.
To take advantage of this benefit, members should access the Member Resources section of the Washington Nonprofits website.
---
About Washington Nonprofits
As the state association for all nonprofits, Washington Nonprofits makes sure nonprofits have what they need to succeed through learning, advocacy, and collaboration. We envision a strong, united nonprofit sector that is a valued partner in creating thriving communities across Washington. Washington Nonprofits delivers on our mission through three main, integrated initiatives: learning programs, public policy, and engagement. Many of our state's most effective nonprofits are members of Washington Nonprofits. Together we make sure nonprofits have what they need to succeed.
About Mac's List
Mac's List is a regional job board with a mission to help people build skills, find jobs, and grow sustainable careers. As the top career resource for passionate professionals in Portland, Oregon, and Washington, we focus on sharing high quality job listings and actionable resources that help people find and land the jobs they deserve. As the world's first certified B Corp job board, we're a company with a mission: to make the hiring process more human, for both job seekers and employers. Whether you're looking for the right job, direction in your career, or your next new hire, the Mac's List team is here to help.