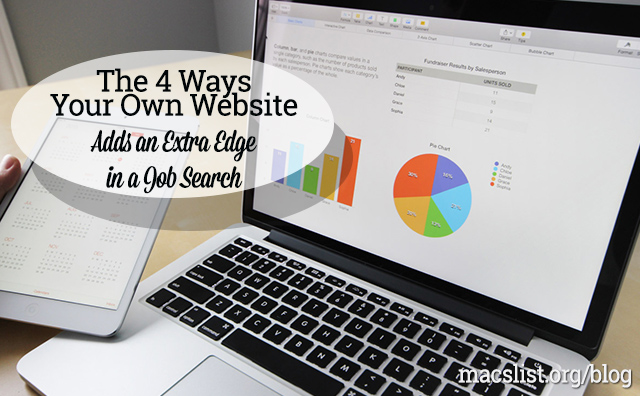 You can't just rely on a great resume today. You need to stand out among other applicants. A great way to set yourself apart as you build your network and apply for jobs is to create your own website.
Here are four ways a personal website helps your job hunt:
1. Show and Tell. Your own website allows you to go much more in depth than you can on your resume. With an online platform you can show past projects and writing samples, and give a future employer the chance to see what you have done, not just a quick description of it on a resume.
2. Always Be Up to Date. Save time working on your resume by refreshing your site and sharing your work right away. Provide an updated link to different prospective employers or notify your LinkedIn followers that you have added something to your webpage.
3. Share Your Personality. Most resumes are a straight-forward catalog of accomplishments and facts. A personal website allows for artistic freedom and you can tailor it to your personality.  Create a unique layout or logo, or provide an in-depth bio about yourself. This shows employers and future clients your taste and gives a sense of who you are.
4. Learn a New Trade. Launching and maintaining a website teaches you marketable technical skills. Popular publishing platforms like WordPress  are easy to use, but you still need know how to work with Cascading Style Sheets (CSS) and other online tools. Learning these techniques shows employers that you can teach yourself and catch on quickly.
Need an example? Here's a site I created for my own job search. You can start building your own page today with these free tools from Cargo Collective, Moon Fruit, or Wix.
How has a personal website helped you find new work in Oregon? Have you seen a site you like?
You May Also Like