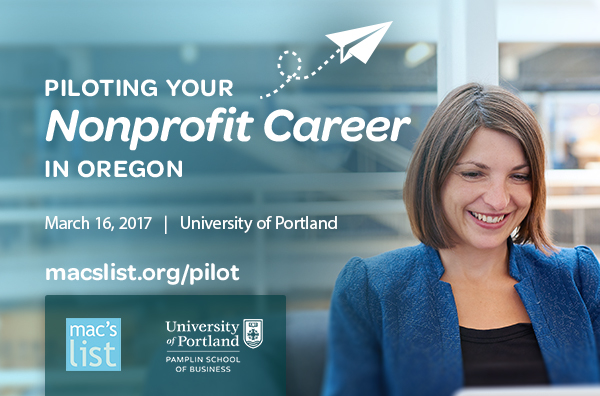 Are you searching for a career in the nonprofit or social-good sector? Do you want a job that makes an impact in your community, in the world, and in the lives of others? Are you looking for a way to make a difference while you earn a living? If so, join Mac's List at our new quarterly networking series, Piloting Your Nonprofit Career in Oregon, hosted by the University of Portland, Pamplin School of Business.
This recurring seminar series is dedicated entirely to careers in Oregon's social good sector. We'll discuss pathways for finding work and building your career in a change-making organization. Learn out how to find work in Oregon's robust, and highly-competitive, nonprofit scene. And discover about new avenues for meaningful work, made possible by the emergence of benefit corporations and other social impact enterprises.
What you'll learn:
Trends in the nonprofit and social enterprise sector

Advice for looking for work in the nonprofit and social good space

Perspectives from established leaders in the sector

Resources to guide you on your way to making a difference in Oregon

How to connect with interesting, socially-minded people and organizations

Pathways for attaining the skills you need to succeed in a social good career
Who should attend?
Professionals looking to transition into the nonprofit sector

Current nonprofit professionals looking for new opportunities

Students looking to embark on a social good career

Anyone looking for a sustainable career in the the nonprofit and social good sector

People who are passionate about organizations that Oregon (and the world) a better place
Panelists:
What to expect:
Program Schedule:
5:30-6:15 p.m. – Check-in and networking

6:15-7:15 p.m. – Panel discussion

7:15-7:45 p.m. – Audience questions

7:45-8:00 p.m. – Networking
Cost:
Early Bird Rate (before February 28): $20
General Registration (after February 28): $25
Student(requires .edu email address): $15
Space for this event is limited and will sell out. Register now to secure your space at the lowest price!
You May Also Like