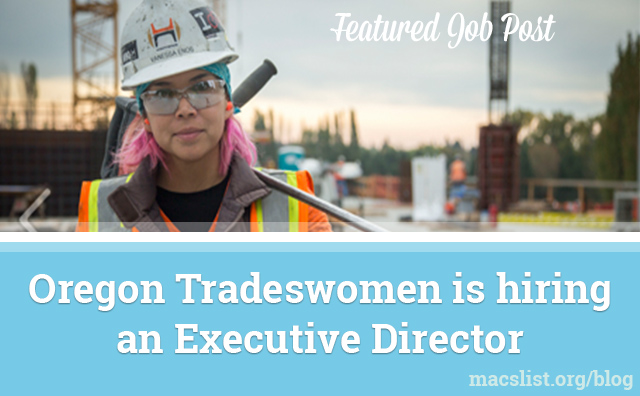 Oregon Tradeswomen Inc. (OTI) is hiring an Executive Director (ED) that will have overall strategic and operational responsibility for the organization's staff, programs, expansions, and execution of its mission. The salary range for this position is $78,000-$82,000, annually.
Why work for Oregon Tradeswomen
OTI is dedicated to promoting success for women in the trades through education, leadership, and mentorship. Founded in 1989 as a small support group led by four tradeswomen, OTI became an official 501(c)(3) nonprofit in 1999. OTI was founded on the principles that women deserve and can attain economic self-sufficiency through pursuing careers in the building, mechanical, electrical, and utility trades while helping and encouraging the trades industry build up a diverse workforce. Today the organization is comprised of nearly 400 members, three programs, an annual trades career fair for women and girls, and the support of the trades industry employers.
Who should apply?
The ideal candidate should have proven leadership, coaching, and relationship management experience. Other qualifications include:
Five or more years of senior management experience.
Track record of effectively leading and scaling a performance- and outcomes-based organization and staff.
Developed and operationalized strategies that have taken an organization to the next stage of growth.
Understanding of non-traditional work for women.
Strong commitment to feminist and racial justice frameworks.
Unwavering commitment to quality programs and data-driven program evaluation.
Leadership in organizational management with the ability to coach staff, manage and develop high-performance teams.
Past success working with a board of directors with the ability to cultivate existing board member relationships.
Strong marketing, public relations, and fundraising experience with the ability to engage and develop relationships with a wide range of stakeholders and cultures.
Strong written and verbal communication skills.
Persuasive and passionate communicator with excellent interpersonal and multidisciplinary project skills.
Must have experience with writing and winning grants.
Verifiable record of creating, monitoring and tracking large (over $1M) budgets.
Action-oriented, entrepreneurial, adaptable, and innovative approach to business planning.
Ability to work effectively in collaboration with diverse groups of people.
Passion, idealism, integrity, positive attitude, mission-driven, and self-directed.
How to apply
Visit www.tradeswomen.net/about/ for a full job description of duties and qualifications. To apply, please send:
Your resume.
A cover letter (suggested length 3-4 pages) detailing what in your background and experience qualifies you for this position.
OTI standard application form.
Applications will be reviewed starting January 3, 2017. The position will be open until filled. Applications may be sent via e-mail to madelyn@tradewomen.net, faxed to 503.249.0445, or mailed:
ATTN: Madelyn Elder.
Oregon Tradeswomen, Inc.
3934 NE MLK Blvd.
Suite 101
Portland, OR 97212
Women and people of color are strongly encouraged to apply. OTI is an EEO Employer.
You May Also Like