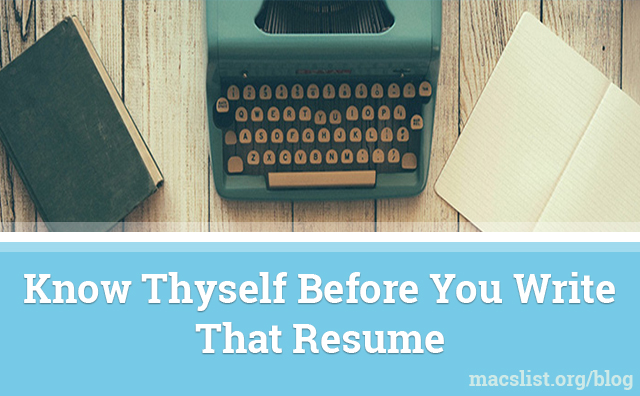 "Know thyself," is written on the forecourt of the Temple of Apollo at Delphi. Ancient sages and philosophers believe this term is the foundation for western culture. Self-knowledge, especially when applied to the job search is considered the highest form of knowledge.
In this competitive employment environment in Oregon and other states you may encounter 'experts' everywhere you turn. But your first step to a new career or job should be dedicated to a process where you learn more about yourself.
Take the opportunity to "know thyself," and you may find that a deeper understanding of your skills and your goals will simplify your job search and resume development. This is an important step to ensure that your next job in Portland or anywhere else is more fulfilling and satisfying.
Remember these six tips BEFORE writing your resume:
1) Resumes need to specifically target the companies you are applying to 
2) Individual resumes which highlight different skills and abilities are necessary to target specific companies or job types
3) No 'boilerplate' or 'template' resumes
4) Whoever writes your resume, remember this: it is your skills, not graphic design, that make your resume and related materials stand out
5) Grammar, spelling and a professional writing style is mandatory
6) Your resume does not substitute for an active professional network
But how do you "know thyself?" Dedicate a few hours to assess your personal likes and dislikes and how they fit into the job market. Register (your contact information is kept confidential) at authentichappiness.org through the Positive Psychology Center at the University of Pennsylvania. This free site conducts online research studies on personality such as character strengths, satisfaction with life and related topics.
Authentichappiness.org offers a battery of tests that are quick and easy to take, and will give you an immediate profile of your likes, strengths, and weaknesses. For example the Brief Strengths Test measures your basic personality skills. The Grit Test teaches you about personal perseverance.
All of these tests will lead you to career self-discovery. However, please have a discussion about the results of these tests with a career coach or with trusted friends. Discuss the results and then talk about the type of job and career that will not only suit you best, but also what sort of position that you are likely to succeed in.
Looking for a local career counselor? If you're taking college classes, you may be eligible for help. The Career Center at the University of Oregon connects students with career counselors on a first-come, first-serve basis.
What self-assessment tools have you used? If you've worked with a career counselor tell us about your experience.
You May Also Like