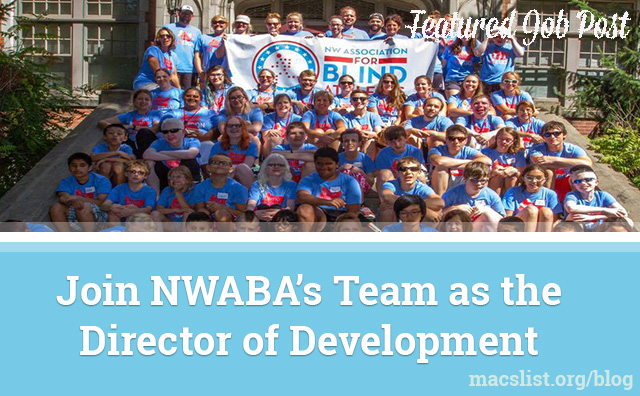 Northwest Association for Blind Athletes' is seeking a Director of Development, who will be responsible for all aspects of the development program including major gifts, planned gifts, corporate sponsorship, special events, foundation relations, donor database, budgeting and supervising development staff. This position is coming at a pivotal time in the NWABA's growth and will support significant and sustainable expansion of the NWABA's life-changing programs for children, youth, adults and military veterans who are blind and visually impaired. As an integral member of the development team, the Director of Development will have a goal of raising more than $850,000 annually to support current operations and future growth initiatives.
Why work for Northwest Association for Blind Athletes?
Northwest Association for Blind Athletes (NWABA) provides life-changing opportunities through sports and physical activity to individuals who are blind and visually impaired. In the past nine years, NWABA has transformed from an organization serving six individuals in its first year to a national leader in the field that improves the quality of life for more than 1,300 children, youth, adults, and military veterans with visual impairments annually through five innovative programs and services.
NWABA is a mission-driven, growth-orientated organization that fosters a culture of innovation, communication, collaboration and hard work to improve the quality of life for individuals who are blind and visually impaired. Conveniently located in downtown Vancouver, Washington office, NWABA is in the heart of the city and close to restaurants, coffee shops, and trails. NWABA offers competitive benefits package including, medical and dental reimbursement, 403(b) savings plan, generous personal time off (PTO) and flexible scheduling opportunities.
Who should apply?
The NWABA's new Director of Development will partner with the Executive Director to implement and strategically grow a robust major gifts program across the region with an emphasis in Oregon. Additional responsibilities include:
Develop, implement and manage a comprehensive annual development plan to sustain current programs while planning for short and long-term growth.
Knowing all aspects of development across the region including major and planned gifts, foundation and corporate relations, direct mail, third party fundraising and other initiatives.
Directly solicit funding from individual, corporate and foundation supporters.
Develop, implement and manage various internal and third-party fundraising events across the region.
Meet regularly with donors to support the cultivation, solicitation and stewardship process.
Direct supervisor of the development team and various independent contractors, including graphic design, grant writing and communication work.
Recruit and manage various volunteer committees and task forces to support development goals.
Oversee the successful operations of a complex donor database software.
Attend various community events throughout the year to raise awareness.
Development, implement and monitor standard operating procedures to support all development efforts.
NWABA's new Director of Development needs to have a Bachelor's degree or equivalent combination of education and experience required, plus:
Four years of prior development experience.
Demonstrated ability to secure major and planned gifts.
Proven success in an entrepreneurial non-profit environment.
Ability to successfully coach and mentor employees and volunteers to achieve desired results.
Embraces strategic, annual planning and oversees successful execution of the plans.
Ability to travel approximately 50% of time throughout our service area, including Washington, Oregon, Idaho and Montana.
Outstanding public relations and interpersonal communication skills, including public speaking.
How to apply:
If this sounds like your dream job, please send your resume, cover letter, and three or more professional references to DEVDIR@Tjandassociates.com. In your cover letter, please make sure you share the following:
Why are you a great fit for this position? What might set you apart from other candidates? How would you make a difference?
What are your proudest past achievements in a Development Leadership role (include metrics where available)?
Why are you interested in working with the Northwest Association for Blind Athletes?
Salary history and requirements.
You May Also Like