« Create Your Own Job Opening in Portland
Applying to Graduate School in Oregon? Here's Why It Was a Good Decision For Me »
Ideas for Creative Self-Employment in Oregon (or Anywhere Else)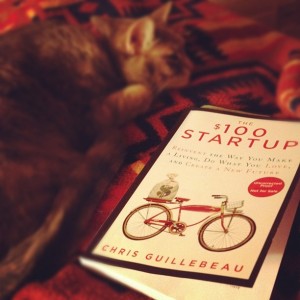 Portland's high quality of life and quirky urban culture have long drawn new residents. Finding a job here can be challenging, however for some Oregonians creative self-employment has become the answer. 
Mac's List Editor Jessica Williams and I saw this at firsthand when we attended a holiday party at the end of December organized by Chris Guillebeau who writes about unconventional work, entrepreneurship, and foreign travel on his blog, The Art of Nonconformity.
Chris, who lives in Portland's Hawthorne neighborhood, has never held a regular job. Instead, he has found ways to turn his ideas into income that allows him to help others and travel frequently (he has already visited more than 175 countries at age 34).
The Art of Nonconformity event filled The Picnic House in downtown Portland a few days before New Year's Eve. It was a friendly, sociable group that shared an interest in how to make a living doing something you are passionate about without giving up the freedom to pursue fulfilling personal goals.
Earlier this year, Chris published a book, "The $100 Startup," that draws on his own experiences as well those of 1,500 others who created their own jobs by building businesses earning $50,000 or more from a modest investment. He offers case studies, practical tips and well-organized materials useful to anybody interested in finding a way to get paid to do what you love. 
Chris's advice rang true for me. I have the good fortune to be creatively self-employed, running both Mac's List and my own public relations and social media agency for organizations that are making the world a better place. However, when I read the "The $100 Startup" I found myself thinking about the mistakes I could have avoided if I'd had the book when I launched my firm five years ago.
Want to learn more about creative self-employment? Check out these Oregon-based resources:
1. Location 180. Portland resident Sean Ogle writes about how to build a business you can run from anywhere.
2. PortlandCreativeList. This site seeks to connect Portland's creative professionals for the greater collective good. While perhaps best known for its very good job board, it also has a terrific resources page for the self-employed.
3. World Domination Summit 2013. Organized by Chris Guillebeau, last year it attracted creative people from 20 countries. It's happening in Portland July 5 -7, 2013. Registration begins January 16, and tickets will go fast.
Are you self-employed? What advice would you offer others who want to take the leap? 
Image used under Creative Commons from Flickr user RowdyKittens