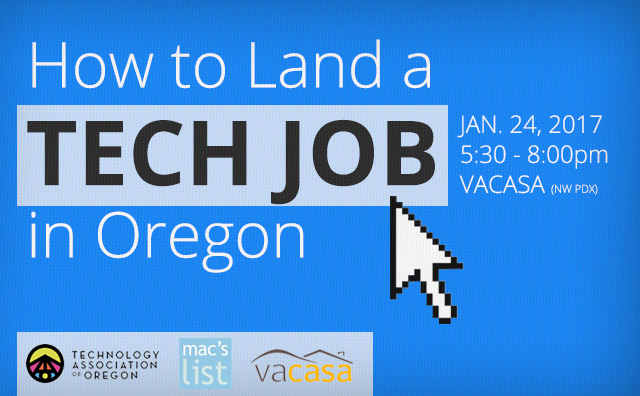 Organized by Mac's List and the Technology Association of Oregon; Sponsored by Vacasa.
High-tech is one of the fastest growing industries in Oregon, and the number of tech jobs is expected to grow by 20 percent over the next decade. Opportunities are abundant and the compensation is great, with median salaries nearly double the state average in all other industries.
To get one of these plum gigs, you need to have the right skills. Equally important, you need to have the right approach to your job search.
Join Mac's List and the Technology Association of Oregon as we highlight avenues for starting and advancing your career in Oregon's burgeoning tech scene.
We've assembled a panel of recruiters and talent managers from a diverse range of growing technology firms.
These hiring experts will discuss new job opportunities in the sector, the diverse skill sets they are looking for, and the best strategies for getting your foot in the door.
Whether you're looking to transition into the technology sector–or simply want to move up the ladder in your tech career, this is the event for you. Seating for this event is limited, so register now!
Panelists:
John Boone, President, ProFocus
Lauren Espinosa, Manager of Talent, Jama Software
Christine LaPorte, Owner, PDX Career Coach
Raine Lunke, Director, CorSource Technology Group
Jennifer Waldrip, Market Vice President, Portland/Salt Lake City, Kforce Inc.
Moderator:
What you will learn:
The skill sets tech firms are looking for (it's not just coders!)
The best way to break into the technology sector.
How tech recruiters find and vet candidates.
How your existing experience plays in the tech job market.
Actionable strategies for connecting with internal and external recruiters.
Opportunities in Portland's start-up scene.
Who should attend this event:
Established professionals looking to break into the tech sector.
Technology professionals looking to advance their careers.
Professionals new to the Portland job market.
Students exploring a career in a technology-related field.
Anyone who wants a rewarding, in-demand job!
Program Schedule:
5:30pm – 6:00pm: Networking
6:00pm – 7:30pm: Panel presentation and audience questions
7:45pm – 8:00pm: Networking and wrap-up
But wait…there's more!
Drinks and hors d'oeuvres to be served throughout the event
All paid registrations include a complimentary paperback copy of Land Your Dream Job in Portland (and Beyond), the complete Mac's List guide to finding meaningful and rewarding work. (Books to be delivered at the event.)
Seating for this event is limited, so register now!
You May Also Like