Advertise With Us
Placing an ad with Mac's List ensures your brand or event will be seen by tens of thousands of highly educated, talented and experienced Portland area professionals. Traffic to macslist.org averages 270,000 page views, 90,000 visits and 40,000 unique visitors per month.
More facts about Mac's List readers: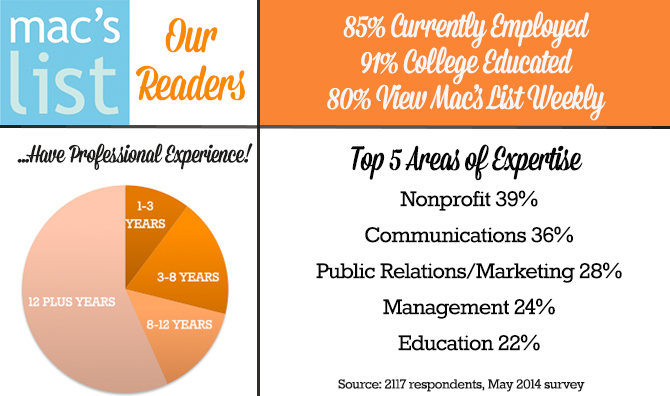 Advertise on Mac's List:
Large Square Ad – 334px x 280px – $1000/month
Horizontal Ad Primary Placement – 334px x 140px – $800/month
Horizontal Ad Secondary Placement – 334px x 140px – $600/month
Website ads appear on macslist.org alongside our premium content (all job listings and blog posts) and are seen by tens of thousands of unique visitors each month.
All ads work as JPG/GIF/PNG images. If you need any graphic design help producing your ad, let us know. We'll be glad to help!
To see examples of what your ad will look like, please contact Cecilia Bianco or call 503-477-8655.
Website sponsors also get mentioned on Facebook, Twitter, and LinkedIn.
Purchase an ad for longer than a month and receive an additional:
10% off total cost for 2 months
15% off total cost for 3 months
20% off total cost for 4 months
Contact Cecilia Bianco today if you are interested! 503-477-8655