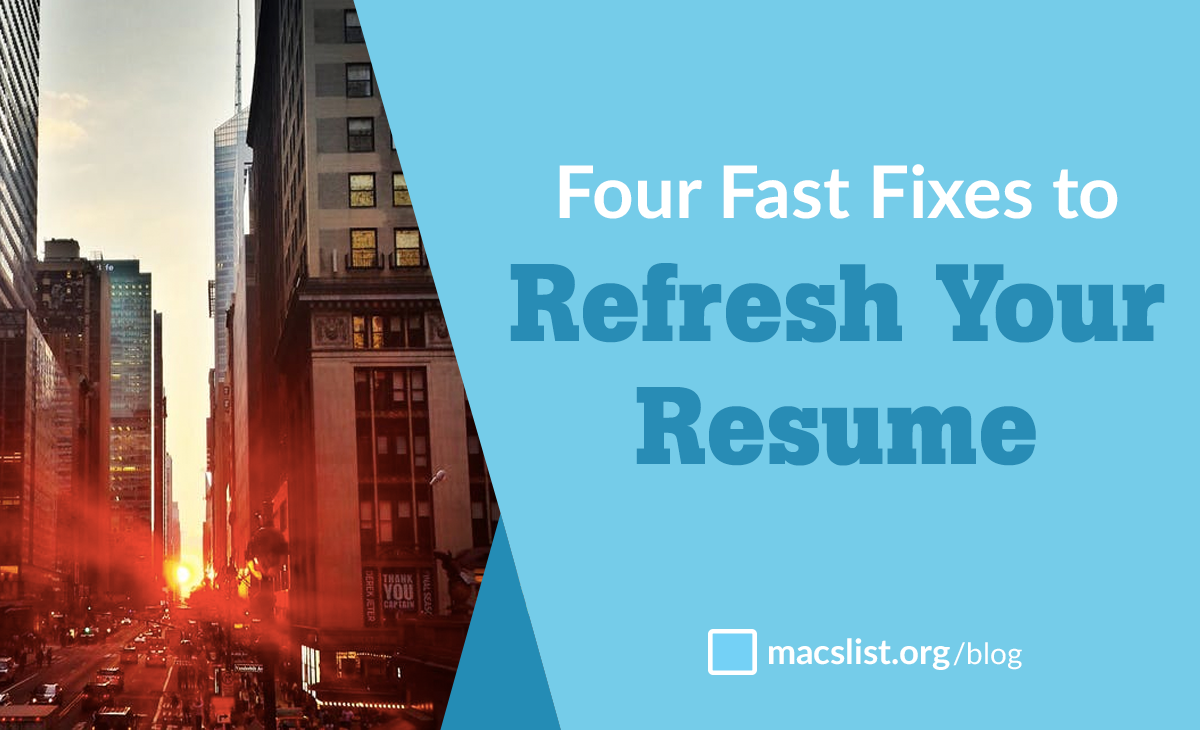 If you're reading this article, it's because you are looking for a new job. Maybe you've been on the hunt for a while; or perhaps you're just getting your feet wet and exploring your options.
Whatever your situation, I have a simple question for you: How fresh is your resume?
Is your resume compelling and on-point? Are you positioning yourself as a solid match for the type (or types) of roles you're most interested in landing? Most importantly, is the "you on paper" is as amazing as "you in real life".
If no, you're going to struggle connecting with employers. It's a "buyer's market" these days and the competition for the best jobs is fierce. To stand out from the pack, you need an awesome resume that reflects everything you have to offer. 
Wondering where to begin? Here are four fast fixes that will help you get your resume ready ASAP.
1. Talk Directly to Your Target Audience
The most basic rule of thumb on what makes a great resume is this: A great resume makes it incredibly easy for your target audience to quickly connect their "This is what we need" to your "This is what I can walk through your doors and deliver."
The easier you make this for a recruiter or hiring manager to do, the better the odds that he or she is going to invite you in for an interview. Thus, you should pay close attention to the deliverables being called for in the job advertisements that captivate you the most. What do they need you to know how to do? If you lay out 3-4 job descriptions side-by-side, you can see where there are overlapping skills – skills that are being called for over and over again across multiple job descriptions.
Take this information and position yourself (on paper) as a clear and obvious match for these most commonly called-for skills and capabilities.
2. Add a Career Summary
Lose the objective (no, seriously). These statements nearly always say little about who you are and what you can contribute in your next role. Instead of squandering your valuable top-of-page resume real estate, consider instead a career summary.
The summary section is super important because it's your first (and possibly only) opportunity to pique the interest of your target audience, right out of the gates. If you don't draw them into the story of you immediately, don't expect them to get through your entire resume.
By creating a section with three or four quick statements that announce your professional brand and give the reviewer an instant snapshot of what you can walk through their doors and deliver, you're immediately enhancing the odds that your target audience will understand how and why you line up for the role for which you're applying.
3. Add a Key Skills Section
This is an incredibly easy, efficient way to showcase core proficiencies that align with the types of roles that you're targeting. By adding a key skills (or areas of expertise) section to your resume, you give the people reviewing your resume a simple way to see the "stuff" you're good at. You're also embedding the document with plenty of keywords that the resume scanning software (also known as an applicant tracking system, or ATS) might come looking for.
(Keep in mind that most mid- to large-sized companies today use resume scanning software. This means that a computer often "reads" your resume before people do.)
Which keywords should you showcase? You can figure this out by studying a few job descriptions of interest. Are there terms and skills that are being called for across multiple job descriptions? These would probably be good ones to include in this section, assuming you do have that specific expertise.
4. Showcase the "So What?" About You
One of the most common mistake professionals make with their resumes is that they do a bang-up job of showcasing the duties and responsibilities they hold, or have held in prior jobs—yet they fail to expound on the "so what?" about these activities. What was the significant? The impact? The result? Why are you telling the reader about that thing that you do? Does it tie in with how you're trying to present yourself to your current target audience? So, what about you? How and why are you a standout?
Realize that you're probably going to be competing with people who have similar skills as you. Your job is to make it clear that YOU are the clear superstar in the pack.
Try going through your resume and, in every spot where you've simply listed out a responsibility you've held, spell out why that mattered or what it might translate into for your next employer.
Sounds easy, right? And these updates may be quick and doable for you.
But if you think you'll need some additional help, check out my Weekend Resume Makeover e-course, an easy-to-follow, self-paced video tutorial that walks you step-by-step through the proven JobJenny.com process of resume development.
I've designed this course to be conversational, approachable and, arguably, fun. Weekend Resume Makeover provides tips and secrets on how the whole staffing and recruitment game works (including how to deal with the formidable "resume black hole"), includes sample resumes / resume templates, and answers the questions her team hears most often about resumes and cover letters.
You can check out a preview module right HERE.
You May Also Like